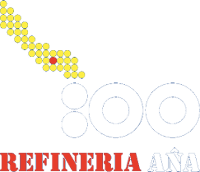 Isla den Nos Bida
100 years Refinery in Curaçao – 100 aña Refineria na Kòrsou
The lost monument
Commemorative sign offered to the Curaçaoan population by CPIM and the Curaçao Shipping Company NV (CSM) in 1934 to honor the involvement of the Netherlands in Curaçao since 1634.
This monument was placed on the square between the Wilhelminaplein and the Breedestraat in Punda. Unfortunately the monument was removed at some point, after which it 'disappeared'. Two brass relief plates have been preserved in the NAAM collection.
The monument was made of a more durable kind of concrete and measured five meters in height by 1 meter in width. In the back, an expansion of 1 meter in length was mounted. The column was decorated with bronze reliefs, perforated with an openwork pattern, demonstrating representations of daily life on Curaçao.
In front, an enamel plate sported the code of arms of the Dutch kingdom, including the year 1934 right above it. In the back of the column a motto was displayed: "The colonial government of Curaçao presented by the Curaçaoan Petroleum Industry Company and the Curaçaoan Shipping Company." The expansion showed scenes of the occupation of Curaçao by the Dutch in 1634, led by commander Van Walbeeck. In the back of the expansion a colorful enamel Code of Arms of the Dutch West India Company was mounted, topped by the year 1634.
The monument was made by Gerrit Jan van der Veen, an artist who had been born in Amsterdam in 1902. Van der Veen started out as an engineer who worked for CPIM for several years. During this time he and a colleague succeeded in putting out a fire aboard an English tanker, preventing the blaze from spreading throughout the refinery. As an acknowledgement, CPIM offered Van der Veen a sum of money, which he used to enroll himself in the Royal Academy for the Visual Arts in Amsterdam. Van der Veen started his studies there in 1928 and was awarded the silver medal of the Prix de Rome two years later. In 1934 CPIM asked him to construct the commemorative sign on Curaçao.
Six years later, Van der Veen's artistic career was cut short as a result of World War II. He joined the resistance and was executed by a firing squad near the Dutch village of Overveen in the Netherlands on June 10th, 1944. In Holland, a street was named after him in 1945. The United States posthumously awarded van der Veen with a Medal of Freedom in 1953. In 1973 a monument was unveiled in Amsterdam honoring artists who had joined the resistance during World War II.
Helma Maduro Molhuijsen