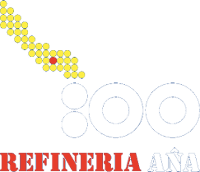 Isla den Nos Bida
100 years Refinery in Curaçao – 100 aña Refineria na Kòrsou
During the decades the refinery has been operational on Curaçao, several stages of development have occurred, including name changes, expansions and down turns. The Bataafsche Petroleum Maatschappij located in The Hague, a subsidiary of Royal Dutch Shell in charge of locating, producing and refining oil, started its activities on Curaçao in 1915. The Bataafsche set out to buy land and water concessions, needed for the refining process, in and around the Schottegat. Much land was leased to S.E.L. Maduro & Sons, who drove a hard bargain and proved a worthy opponent to the giant oil company. Eventually, in and around the Schottegat, several plantations were acquired. On Isla, the so-called peninsula of the Asiento plantation in Schottegat, two trans-shipment tanks were built.
To transport the oil from Venezuela some eighteen self-propelled barges were needed. Due to the start of World War I in Europe steel had become prohibitively expensive, so Maduro & Sons was asked to build two lighters (lichterschepen), wooden oil containers to be towed between Curaçao and Venezuela. When the Curaçaosche Scheepvaart Maatschappij (CSM) was founded in 1917, its entire fleet consisted of Don Andres -a tug boat bought in Buenos Aires – and the lighters Willemstad and Oranjestad.
World War I substantially delayed the supply of materials from the United States, but the refinery was finally operational in 1918. On Isla tanks, piers, a distillery plant and a cracker installation were built. The Bataafsche had meanwhile deeded her possessions to the Curaçaosche Petroleum Maatschappij (CPM), established in The Hague in October 1916. As of September 1921, all products manufactured by the Curaçaoan refinery were marketed under the name 'Shell'. Subsequently, CPM became part of the Curaçaosche Petroleum Industrie Maatschappij (CPIM), founded on Curaçao in 1925. CPIM was renamed Shell Curaçao N.V. in 1959.
A period of expansion ensued from 1923 to 1930, during which not only the refinery itself was renewed, but also facilities such as the CSM-fleet, tank farms, water resources and workforce recruitment. The years of economic crisis, from 1930 to 1934, hit CPIM hard. Where in 1929 some 8.500 laborers had been employed, in 1931 this number was down to 2.648. After 1935 a second period of expansion followed, at which time new installations were built that could produce a higher quality of gasoline and lubricating oil.
During World War II the high demand for kerosene triggered a fourth expansion phase, continuing into the 1950s. Among other equipment, a catalytic cracker was built in 1957 – for high grade motor oil – and a crude oil distillation installation in 1965, with a capacity for 130,000 barrels a day. Yet, in spite of or rather due to these investments, the labor force steadily declined due to technological advancement. In its overall peak year of 1952, the refinery generated 50 percent of the Curaçaoan annual income and 22.000 jobs. Yet by 1965, no more than 5.000 workers were employed by Shell Curaçao N.V., of whom 80 percent were Dutch Antillean, 15 percent European Dutch and 5 percent from other nations.