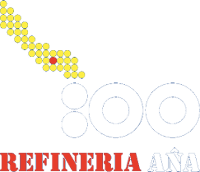 Isla den Nos Bida
100 years Refinery in Curaçao – 100 aña Refineria na Kòrsou
In September 2016, a general strike at the refinery paralyzed Curaçao through a 14 hour power outage. The strike started on August 29th, due to a conflict between the union for oil refinery workers SGTK and contractor's association AAV. The parties had been negotiating a Collective Labor Agreement since December 2014, when the previous agreement expired.
The strike reached a head on August 30th, when strikers set fire to cars, tires and other material causing unrest among the Curaçaoan population. The abandoned theater Sentro Pro Arte also succumbed to flames, although it was not proven this fire was set by strikers. While discussing the strike amongst themselves or on social media, many Curaçaoans fearfully referred to the events of May 30th, 1969 as a potential scenario for the current strike. Shortly after, SGTK and AAV reached agreement on a new two-year Collective Labor Agreement for 2017 and 2018, including pay raises of 3 and 6 per cent.
But back pay for the elapsed years of 2015 and 2016 remained a point of contention. While SGTK demanded 3.000 Antillean guilders per worker, AAV was only willing to pay 500 Antillean guilders for each one. The total sum involved was close to 2 million Antillean guilders. SGTK decided to keep the strike going until a solution was found. When the issue remained on the table through mid-September, 23 labor unions joined forces to put pressure on government to threaten a general strike. Yet prime minister Whiteman and minister of Finance José Jardim made it clear that government did not have the funds to cover 2 million Antillean guilders..
On September 14th the Joint Court sentenced that the strike was lawful and the unions charged ahead. A general strike was called for the next day. On September 15th island life came to a complete standstill. Rather than unrest in the streets, the general strike resulted in dead quiet as most Curaçaoans remained home to await a resolution to the situation. Drivers had to be careful on the roads, as traffic lights no longer functioned. Tourists seemed to complain the most about the power outage. Tourism organization CHATA stated that "the situation did not contribute to a positive experience."
In the afternoon of September 15th, to curb "damage to the economy", private investors through business association VBC pledged ANG 1.8 million to bridge the gap between SGTK and AAV. By 2 AM on Friday September 16th, power had been restored in almost all Curaçaoan barios, returning island life to its regular pace.
September was a volatile economic and political period for Curaçao, with the refinery as the focus of the unrest once again. With general parliamentary elections scheduled for September 30th – later to be postponed until October 5th due to Hurricane Matthew – the strike raised issues of political leadership. It also put the uncertain future of the refinery into sharp perspective.
With the strike over, Curaçaoan newspapers reported on Monday September 19th that a Memorandum of Understanding had been signed for exploitation of the refinery with Chinese consortium Guandong Zhenrong Energy after the lease with PdVSA expires in 2019. According to prime minister Ben Whiteman PdVSA was unwilling to extend the lease beyond 2019. However, PdVSA's director Eulogio del Pino reacted in a statement on September 23rd that it was "too early" to start negotiations about extending the lease beyond 2019.