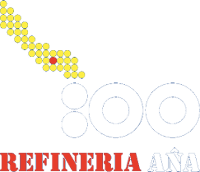 Isla den Nos Bida
100 years Refinery in Curaçao – 100 aña Refineria na Kòrsou
COT
Due to the oil crisis of the early 1970s, a bigger harbor that could handle very large tankers was urgently needed. As the oil from the Arabic OPEC countries became more expensive, a transshipment point for very large oil shipments between the Middle East and Western Africa on the one hand, and the Western United States on the other, was urgently needed. Particularly in combination with a refinery that could process such large amounts of crude oil. Curaçao had the refinery, and Shell Curaçao N.V. set out to build the port.
Engineer W.H. Brouwer, head of Shell Curaçao N.V. from 1968 to 1974, took up the challenge and ordered the harbor and installations at Bullenbaai, originally constructed in the 1930s, to be converted into a transshipment point. In 1974, Curaçao Oil Terminal (COT) opened as the first and largest oil transshipment terminal in the Caribbean region.
Almost immediately, COT became an important link in the transport of crude oil from the Persian Gulf and harbors in West-Africa to the Mexican Gulf and East Coast of the United States. The crude oil is supplied to COT by very large crude carriers (V.LC.C.) that can't dock in the US, is off loaded and stored at COT, to be loaded on to smaller large range tankers (L.R.) for shipment to the US. This allows oil companies to economize on shipment, as the very large crude carriers use far less fuel than the smaller range tankers.
COT's facilities were built up of three piers facilitating both very large crude carriers and smaller large range tankers and three piers for the exclusive use of large range tankers. In 1982, the installation of modern heated transshipment facilities expanded the services offered, allowing the mixing of different oil products under a higher temperature. In 1985, the transshipment facilities for heated oil amounted to 1 million barrels.
Caracasbaai
Caracasbaai was an early favorite for shipping in the Industrial Age, as the first cruise ships reaching Curaçao docked there. For the refinery, Caracasbaai became important as a harbor to facilitate tankers to fuel at sea. In 1927, two moorings were installed, connected by a 15 kilometer pipe line with the refinery, from where oil products are distributed. Due to its depth, wide berth and natural protection from the elements, Caracasbaai was extremely suited to receive larger freighters.
The facility was later expanded to three piers, able to pump oil into very large crude carriers,
with a draft up to 45 feet. In 1985, the terminal at Carabasbaai, along with COT and the refinery were transferred and consolidated into the government entity Refineria di Kòrsou N.V. (RdK).